Here are some our reseller Case Studies
"A reseller is a company or individual that sells to an end-using buyer for a profit, in their own name, as an authorised agent of the retailer."
Beehive Telecom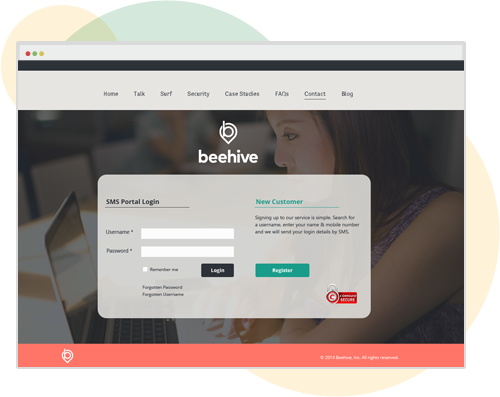 One of the first adopters of the Voodoo SMS white label solution, Beehive Telecom has been in the telecoms business for over five years. The white label portal allows Beehive Telecom's customers to enjoy the full functionality of the feature-rich Voodoo SMS portal, but rebranded with Beehive Telecom's own brand. This portal has immensely enhanced the customer offering from Beehive Telecom.
Within just a couple of months of using the white label solution, the reseller saw increased customer retention rates. Other positive factors were improved customer satisfaction, greater loyalty and improved margin. This is because all features developed on the main Voodoo SMS portal are automatically added to the reseller white label solution.
Such partnerships reap benefits for both the parties. While Beehive Telecom was able to use an own-branded portal immediately by paying only a minimal fee, Voodoo SMS continued to improve portal functionality, as well as increase market share.
With a unique approach to business development, Voodoo SMS continues to grow exponentially. For marketing professionals, this solution is the cheapest and best value investment.
So why are we offering full functionality at great prices to create our own competitors? Because we believe in competition, and have full confidence in our own abilities to compete in a tough market.
University of Bristol
This prestigious University has very high standards when it comes to its programmes and faculty. It continues to occupy the very top spots in the recent Research Excellence awards too.
When the University of Bristol was searching for a bulk SMS solution, it followed the same high standards that it usually does without wishing to compromise on its rather unique requirements. They UoB spoke to all of our competitors at length, but they were all either unable or unwilling to deliver the customer solution required.
Voodoo SMS developed a bespoke solution designed around the University of Bristol, creating a highly secure and flexible platform. Each faculty and its respective students were segregated in different contact lists. Web sms messages intended for the respective audiences were sent to them correctly at the click of a button. The publicly funded university also got the best rates from Voodoo SMS - something none of our competitors were prepared to do.
So why did we do this? Simple: long-term thinking. We wanted to continue to improve our portal functionality, and we are now match-fit to cater to every University in the UK with a customised, fit for purpose solution.