The first thing you will want to know after sending out your bulk SMS campaign is the delivery result, i.e. how many of the messages were successfully delivered, and how many bounced.
Voodoo SMS provides our customers with several key performance indicators to measure the success of each sent message.
Analysis of this invaluable real time information is essential for designing future campaigns, and making them even more effective.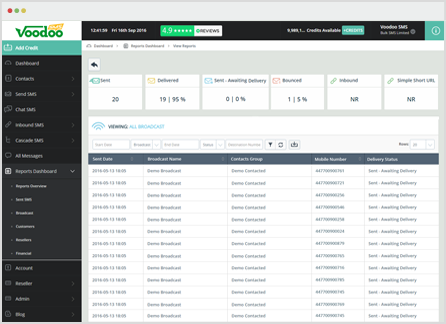 ---
So How Does It Work?
The reason we can provide you with this information is that we use only the very best SMS routes (Tier 1 UK aggregators) to send your messages. Many of our competitors will use much cheaper unreliable 'grey' routes - these being a number of SIM cards in a box in an office (known as a SIM gateway) - And yet we still manage to beat these competitors on price!
SMS Sent
100%
How many messages were sent
Delivered
94%
How many messages were delivered (The message has successfully been delivered to the recipient number at the date & time shown.)
Pending
03%
How many messages are pending (The message has not yet been delivered to the recipient number but has been sent to the network.)
Bounced
01%
How many message bounced (The message can not be delivered to the specified number, this may be due to an incorrect number or the number is not active any more.)
Inbound
20
How many messages you received back
Bounced/Failed Messages
We will tell you which mobile numbers did not receive the text message because they are 'dead' either because they are no longer active or because the number was incorrect. You can then choose to exclude these numbers from future campaigns so you do not waste credits
Message Archives
We will keep a record of all the text messages you have ever sent - all readily accessible. So you can build more effective future campaigns by going back and analysing which text messages performed the best.