SMS loyalty schemes are a fantastic way to encourage repeat purchasing and to build your mobile-marketing database. Here we have provided an advisory guide to help you get your loyalty scheme off the ground.
1. Content
Firstly, you need to decide what will be included in your loyalty scheme. Every product is different so the content and marketing of your loyalty scheme is up to you. We would recommend ensuring that the customer feels that they are being given preferential treatment when they sign-up. This will make it seem as if signing-up for the scheme is worthwhile and that they are not being given the same deals as regular online or in-store customers. Perhaps offer a sign-up/welcome incentive.
2. Signing-Up
There are several methods a customer can sign-up – you can use an online form where you can capture more data than just a mobile number, or a customer can text a keyword to a shortcode or long number to have their number auto-listed on a loyalty-scheme contact list within your account for future deals and marketing. A great way to get customers to sign-up is to offer a competition, i.e. text BRAND (your brand) to 88440 for a chance to win your product.
3. Reward
Now that your customer is signed-up and opted-in, how are you going to keep them from opting-out and/or taking their business elsewhere? Promote a follow-on visit by sending another deal via SMS within 24 hours, maybe if the value of the cart is over a certain amount to encourage larger purchases. Top tip: Try to use voucher codes that are redeemable only once to track ROI and to stop the deal going viral.
4. Monitoring and continuous engagement
Of course, to measure the success of your reward scheme you need to constantly monitor the ROI. Which offers were more successful? Which customers continually take advantage of the offers in the SMS that you send? Analysing the data to tailor future offers and to target future customers is imperative to be make your loyalty scheme work for you.
5. Getting the word out
Once you are happy with the way your SMS loyalty scheme is working for you with a sample of customers, it is time to spread the word of your great offers. If you have stores, advertise your loyalty scheme at the checkout i.e. "text BRAND to 88440". If you have a good social media presence you can use this to cross-campaign the SMS loyalty scheme with your social media strategy. If you already have mobile data from customers checking out or entering their number in a contact form, perhaps send a mass broadcast to advertise your loyalty scheme. Don't forget to include SMS's less far-reaching friend – the email.
Our powerful keyword configurations, comprehensive reporting and tracked URLs can enable your business to easily offer your customers an SMS loyalty scheme. For more information, contact us on 0800 773 4455 or drop an email to info@voodoosms.com.
---
New feature: Chat SMS
The long awaited Chat SMS feature is now live. You are now able to have a "chat" through the portal as you would in your native SMS app, where you can see messages sent and received in a conversational format. With notifications when you have a new message, the ability to have several chats at once and real-time updating we are confident that many of our customers will be able to make good use of this feature.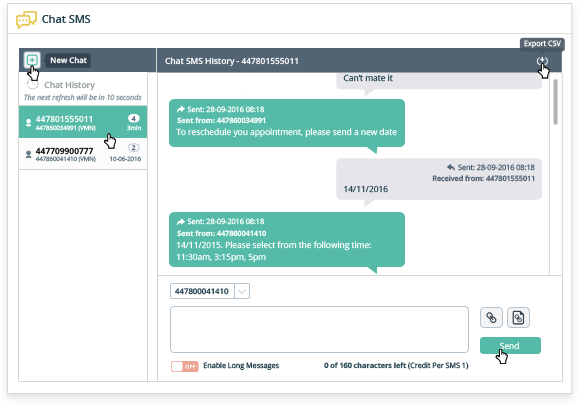 This feature was originally designed to be a customer-service channel, or at least that was what we had in mind, but with the amount of requests from businesses across all industries/with all different requirements we can see plenty of potential in Chat SMS.
Please note that this feature would require a Virtual Mobile Number in order to receive inbound messages at extra cost. As this is a new feature, it is not automatically enabled on all accounts. For more information regarding ChatSMS please contact your VoodooSMS Account Manager.
---
VoodooSMS at the eCommerce Expo 2016
Whether you visited us at the Expo this year or last year we would like to say a massive thank you. It is always good to touch base with our customers in person, get some much-appreciated feedback and to keep relationships on a personal level rather than the faceless business many other companies appear to be. Our team worked really hard, those at the Expo and especially those behind the scenes making sure our new features were ready to be demonstrated. We are already looking forward to the next show!